MHS Wrestling has cancelled practice today. MHS First Team Boys Basketball and Unified Basketball have cancelled practice today

There are after school activities today. There will be no late bus. If students can arrange for a ride home they can stay for activities or practice. If students do not have transportation home after practice then they should go home. Coaches are aware and students who need the late bus to get home would be excused from practice. Our swim practice at the Sanford YMCA is on. Our MS games with Kittery are on as well. Thank you

The Boys Ice Hockey game vs Thornton Academy scheduled for tomorrow at 3:20 has been moved to 8:45pm. Biddeford Ice Arena.


Activity busses for MMS and MHS are cancelled for today. There will be no practices for MMS. MHS sports related trips are still going today. Practices at MHS are on but will be optional due to transportation needs. Thank you.

Todays basketball games at Bonny Eagle have been postponed due to a power outage at BEHS. The new dates will be announced ASAP

All Practices today at Massabesic High School after 12pm have been cancelled. Girls Ice Hockey vs York today has also been cancelled. The reschedule date is TBD. Boys Ice Hockey vs South Portland is on as scheduled at 12 pm at BIA.

January 2023 Breakfast & Lunch Menus at MHS!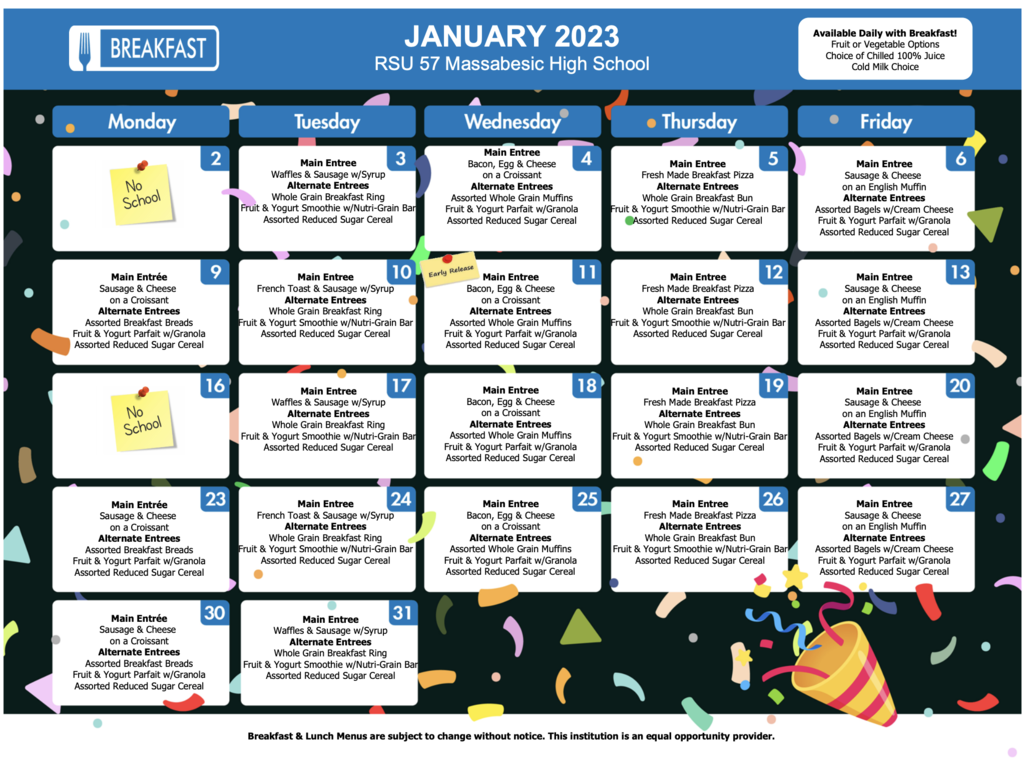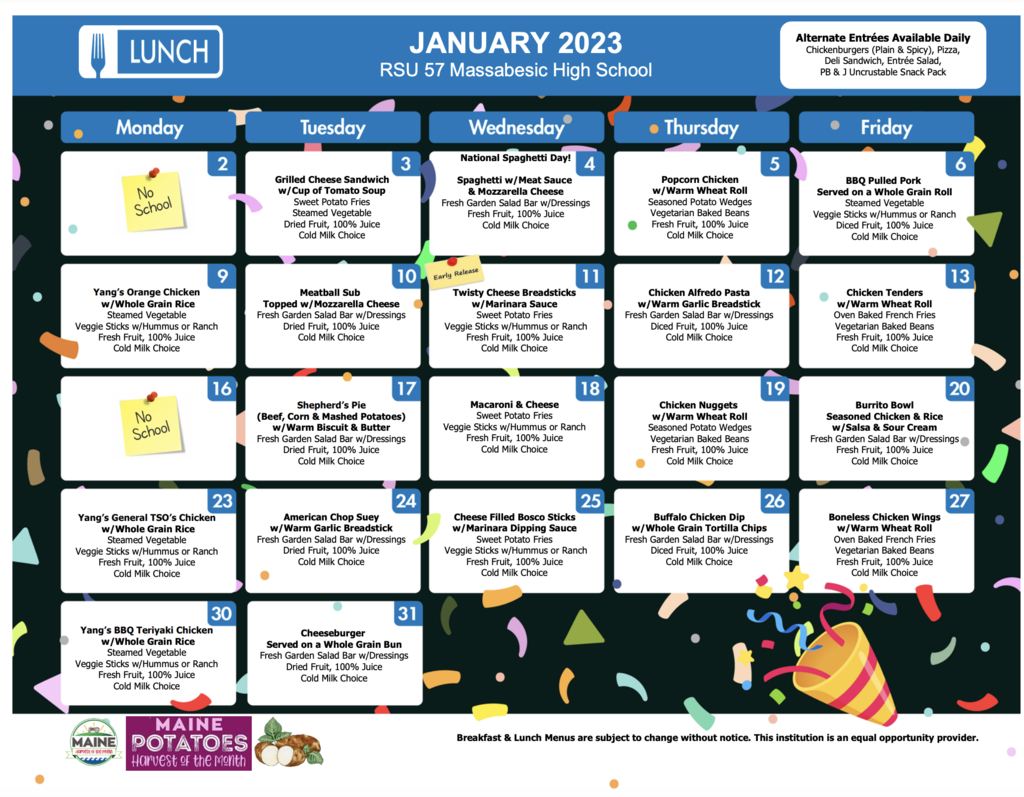 The ice hockey games are on as scheduled this evening. Boys at Biddeford Ice Arena at 5:50pm vs Thornton Academy. Girls at York (Dover Ice Arena) 5pm. Good luck today to our Ice Hockey Players!

The MHS Wrestling trip Concord High School tomorrow has been cancelled. If we are able to reschedule we will do so.

Tomorrow's MHS Indoor Track and Field Meet at USM has been postponed. The new date is planned for 12-27. Details will be coming shortly

Today's RSU 57 activities are cancelled.   No practices and no games. Boys Basketball vs Gorham will be played on Monday.  FT 4pm. JV 5:30pm V 7pm. The MHS Swim meet reschedule is TBD. The status of Saturday's events will be announced ASAP


MHS Boys Basketball has their home opener tonight vs Noble. First Team is at 4pm, JV at 5:30pm Varsity at 7pm. The game will be streamed at
https://www.youtube.com/channel/UCUKQtfxjcDqkjAJ3wwW-VQA
MHS Indoor Track and Field Opens their season tonight at USM with Scarborough, Sanford, Deering and Westbrook at 4pm. Go Mustangs!

We hope you plan to join us tomorrow at our MHS Academic Showcase - Wednesday, December 14th from 5:00 pm - 7:00 pm!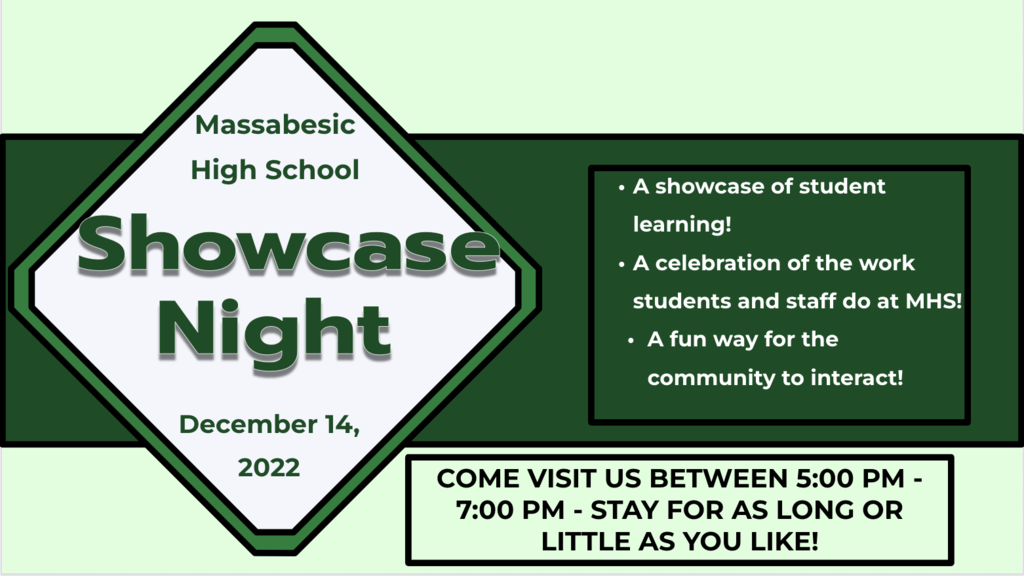 The JV and Varsity Girls Basketball games vs Thornton Academy are cancelled this evening. Our girls will travel to Noble on Tuesday for a JV game at 4:30pm

We hope you plan to join us at our upcoming MHS Academic Showcase - Wednesday, December 14th from 5:00 pm - 7:00 pm!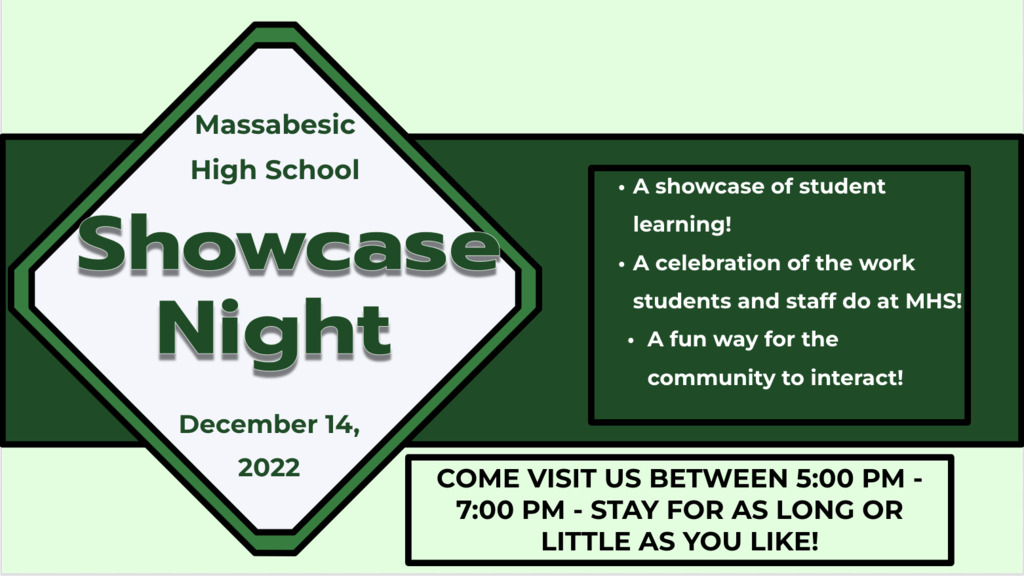 December Breakfast & Lunch Menus!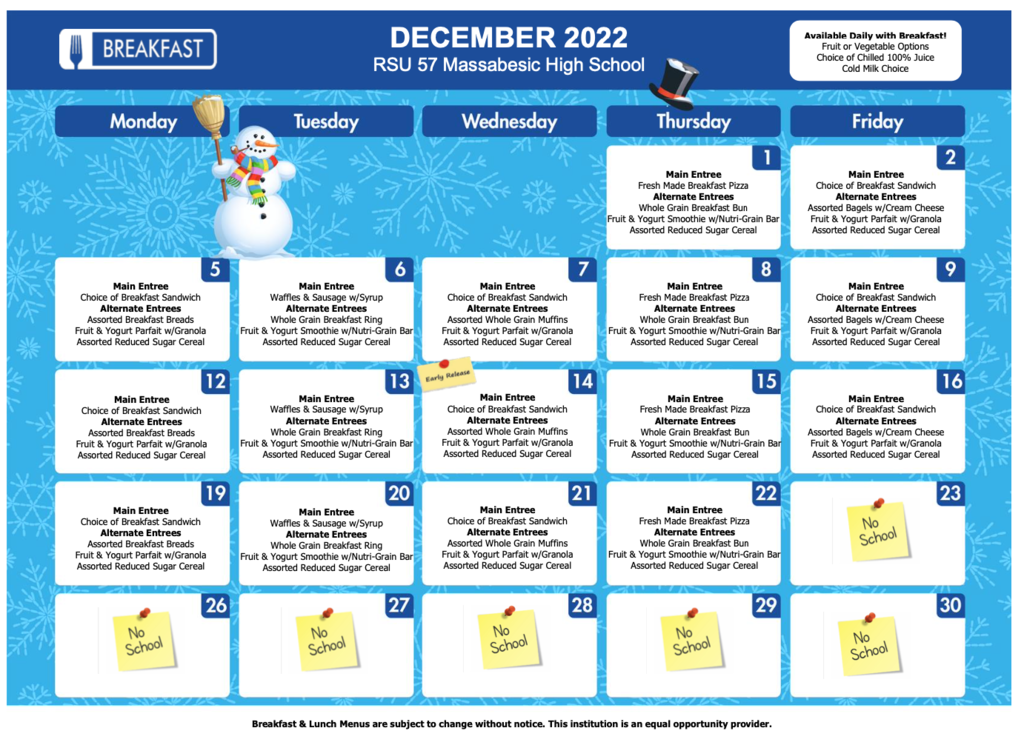 Please see the attached letter regarding MHS Staffing updates dated for 11.23.22.

A special thank you to the Ethan Smarrella and his family for their generous donation of rough-sawn material to help support our programming and students in the Industrial Arts Department! (Photo attached)